Main article: Assault Rifle
The AK-74U is a Tier 1 Assault Rifle of S.V.E.R..
The AK-74U is a short assault rifle created for vehicle crews and special forces. It uses normal assault rifle ammunition, and its shortened barrel trades long-range accuracy for short-range responsiveness.
The AK-74U can be most distinctly characterized by its two key features: its shortness and the presence of a dual magazine (although one of them is not usable). It is the most powerful Tier 1 Assault Rifle, but has the lowest accuracy and a low rate of fire.
Due to open and easy to use iron sights, a Reflex Sight isn't needed. Its low accuracy means that any sort of long-range optics are useless. It has low recoil to start with, so the foregrip or recoil-reducing skills aren't needed. A suppressor will reduce the damage on this gun, negating its only advantage.
AK-74U
Accuracy: 4.1/8.0
Stability: 7.0/8.0
Damage: 3.77/8.0
Rate of Fire: 6.53/8.0
Capacity: 30 rounds in a Box Magazine. '180 'rounds in reserve.
Cost: N/A (Starter Weapon)
Weight: 5C
Reload Time: Medium
Attachments
Edit
Sights (Increase Weapon Accuracy)
Firepoint

Suppressor .............200c (Undetected by sensors when firing, but decreases accuracy.)

Underbarrel

Foregrip .....................200c (reduce recoil of the assault rifle.)
Grenade Launcher ...400c (Adds the ability to fire grenades.)
Bipod..........................200c(reduces recoil when deployed)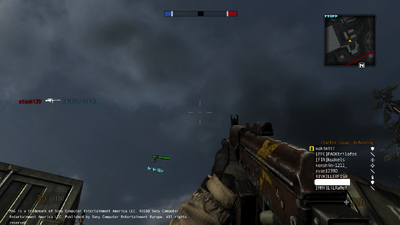 Ad blocker interference detected!
Wikia is a free-to-use site that makes money from advertising. We have a modified experience for viewers using ad blockers

Wikia is not accessible if you've made further modifications. Remove the custom ad blocker rule(s) and the page will load as expected.