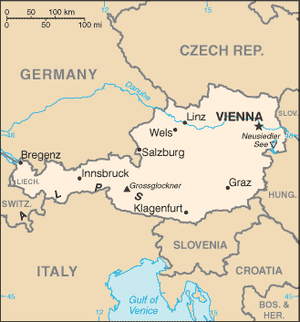 Background
Edit
Once the center of power for the large Austro-Hungarian Empire, Austria was reduced to a small republic after its defeat in World War I. Following annexation by Nazi Germany in 1938 and subsequent occupation by the victorious Allies in 1945, Austria's status remained unclear for a decade. A State Treaty signed in 1955 ended the occupation, recognized Austria's independence, and forbade unification with Germany. A constitutional law that same year declared the country's "perpetual neutrality" as a condition for Soviet military withdrawal. The Soviet Union's collapse in 1991 and Austria's entry into the European Union in 1995 have altered the meaning of this neutrality. A prosperous, democratic country, Austria entered the EU Economic and Monetary Union in 1999. In January 2009, Austria assumed a nonpermanent seat on the UN Security Council for the 2009-10 term.
Ad blocker interference detected!
Wikia is a free-to-use site that makes money from advertising. We have a modified experience for viewers using ad blockers

Wikia is not accessible if you've made further modifications. Remove the custom ad blocker rule(s) and the page will load as expected.