Main article: Pistol
F57
Damage

48 points (177 DPS)

Attachments
Magazine

20 x 3

Maximum Ammunition

60

Unlocked at level (Class)

0 (Personal Defense)

Cost in Skill Points

0

Reload Time

2 sec

Rate of Fire

222 rpm

Weight

200cc (Pre-1.06)
0cc

Fire Mode

Semi

Used by
The F57 is the standard pistol of Raven. The F57 has a slow rate of fire, but can kill quickly with the proper upgrades, and also causes severe damage with multiple hits. The F57 has good damage, but it's true excellence is with headshots, and will often kill with one shot in the head.
The F57 has the highest rate of fire compared to the other PMCs pistols.
The notably lightweight F57 semi-automatic sidearm lacks punch but compensates with excellent armor penetration.
F57
Damage: 48 points (177 DPS)
Accuracy: 2.1/8.0
Stability: 6.3/8.0
Capacity: 20 rounds per mag. 60 rounds in reserve.
Attachments
Edit
Sights
Firepoint

Suppressor .............200c (Undetected by sensors when firing, but decreases accuracy.)

Underbarrel
The F57's real life counter part is the Belgin made FN Five-seveN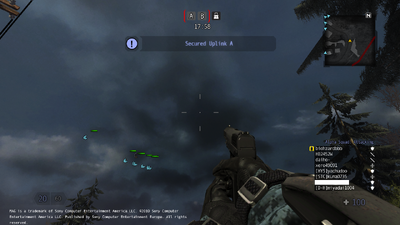 Ad blocker interference detected!
Wikia is a free-to-use site that makes money from advertising. We have a modified experience for viewers using ad blockers

Wikia is not accessible if you've made further modifications. Remove the custom ad blocker rule(s) and the page will load as expected.