Main article: Submachine Gun
KP5
Damage

3.36

Attachments
Magazine

30 x 7

Maximum Ammunition

210

Unlocked at level (Class)

1 (Close Quarters)

Cost in Skill Points

3

Reload Time

Very Fast

Rate of Fire

7.1

Weight

300cc

Fire Mode

Automatic

Used by
The KP5 is the Tier 1 Submachine Gun of the PMC Valor. Based on the H&K MP5
"The gold standard for submachine guns, the KP5 excels in a close combat environment. It has a good rate of fire and average stopping power, but it suffers from low accuracy common to weapons of it's class."
KP5
Accuracy: 3.38/8.0
Stability: 7.35/8.0
Damage: 3.36/8.0
Rate of Fire: 7.1/8.0
Capacity: 30 'rounds in a Box Magazine. 180 'rounds in reserve.
Reload Time: Very Fast
The KP5 is a decent weapon in the right hands. Its accuracy and stability is comparable to the F90, and is better than the Vipera-2. Rate of Fire for this weapon is average. The biggest let down to players when using this weapon is its ammo capacity. However, the mag size becomes irrelevant when in the hands of careful commandos going in to destroy the enemy's assets (the mortar battery, anti-air, motor pool, sensor array, and gates), especially in Domination. Due to the relatively small magazine, firing in 2-3 round burst at medium range and 4-5 round bursts at close range is recommended to avoid consuming too much ammunition and to increase accuracy. Engaging targets at longer ranges is not recommended. Unlocking the Improved Stability skill is a must, along with the reflex sight.
Attachments
Edit
Sights (Increase Weapon Accuracy)
Firepoint

Suppressor .............2c (Undetected by sensors when firing, but decreases accuracy.)

Underbarrel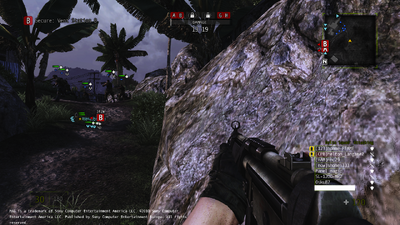 Ad blocker interference detected!
Wikia is a free-to-use site that makes money from advertising. We have a modified experience for viewers using ad blockers

Wikia is not accessible if you've made further modifications. Remove the custom ad blocker rule(s) and the page will load as expected.