Main article: Medium Machine Gun
MK43 Mod1
Damage

4.63

Attachments
Magazine

100 x 3

Maximum Ammunition

200

Unlocked at level (Class)

3 (Heavy)

Cost in Skill Points

5

Reload Time

Very Slow

Rate of Fire

Good

Weight

800cc

Fire Mode

Automatic

Used by
The
MK43 Mod1
is the Tier 2 Medium Machine Gun for the
PMC
Valor
.
MK43 Mod1
Accuracy: 3.28/8.0
Stability: 6.73/8.0
Damage: 4.63/8.0
Rate of Fire: 6.23/8.0
Capacity: 100 'rounds in a Box Magazine. 200 rounds in reserve.
Reload Time: Very Slow
This heavily modified M60 variant is designed to effectively deter large groups of enemies from a single point of fire. The brutal kick and poor accuracy requires patience and skill, but many find the firepower worth it.
This weapon is very versatile and if used with a foregrip or bipod and optic , can be used as a squad support weapon.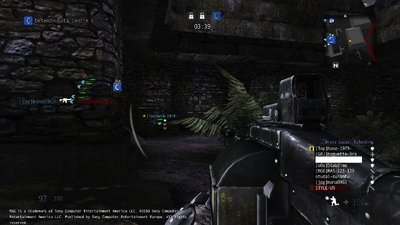 Ad blocker interference detected!
Wikia is a free-to-use site that makes money from advertising. We have a modified experience for viewers using ad blockers

Wikia is not accessible if you've made further modifications. Remove the custom ad blocker rule(s) and the page will load as expected.