Main article: Medium Machine Gun
PSK MG
Damage

4.77

Attachments
Magazine

100 x 3

Maximum Ammunition

200

Unlocked at level (Class)

3 (Heavy)

Cost in Skill Points

5

Reload Time

Slow

Rate of Fire

Poor

Weight

800cc

Fire Mode

Automatic

Used by
The PSK MG is the Tier 2 Medium Machine Gun for the PMC S.V.E.R.
PSK MG
Accuracy: 3.31/8.0
Stability: 6.53/8.0
Damage: 4.77/8.0
Rate of Fire: 5.92/8.0
Capacity: 100 'rounds in a Box Magazine. 200 'rounds in reserve.
Reload Time: Very Slow
For enthusiasts who can withstand its poor accuracy and rate of fire, the PKP MG is second to none in terms of raw power. This is the most powerful Tier 2 MMG, It has a lot of stopping power, but, as all S.V.E.R. weapons, it has a slower rate of fire and less accuracy compared to the others Tier 2 MMGs. It is also a very good gun at medium to close range.
For hitting things at long range single fire/tap R1 to get the best accuracy or simply attach a bipod to accommodate.
Based on the PKP Pecheneg MG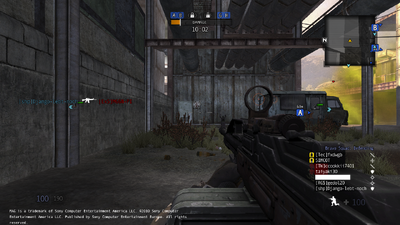 Ad blocker interference detected!
Wikia is a free-to-use site that makes money from advertising. We have a modified experience for viewers using ad blockers

Wikia is not accessible if you've made further modifications. Remove the custom ad blocker rule(s) and the page will load as expected.