Main article: Attachment
A 1cc attachment, the reflex sight slightly increases accuracy of the weapon, increases autoaim and autoaim snap when raised, moves the gun away from the sight so it doesn't cover up the lower part of the screen when aiming, and can be placed on all Assault Rifles, Light Machine Guns, Sub-Machine Guns and Shotguns, but not on a pistol, TMP or a sniper rifle.
It is very useful in short to medium range fighting, as it is more open than standard iron sights.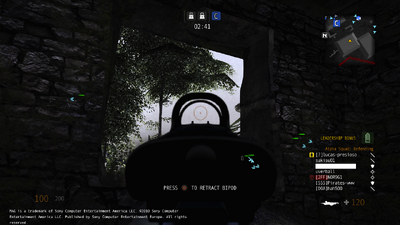 Ad blocker interference detected!
Wikia is a free-to-use site that makes money from advertising. We have a modified experience for viewers using ad blockers

Wikia is not accessible if you've made further modifications. Remove the custom ad blocker rule(s) and the page will load as expected.