Main article: Sniper Rifle
SASR M
Damage

4.7

Attachments
Magazine

10 x 9

Maximum Ammunition

90

Unlocked at level (Class)

2 (Marksman)

Cost in Skill Points

3

Reload Time

Slow

Rate of Fire

4.3

Weight

800cc

Fire Mode

Semi

Used by
The SASR M is a Tier 1 Sniper Rifle of S.V.E.R..
The modernized SASR variant trades handling for firepower. While it does more damage and has a slightly higher rate of fire, it's tempered by increased recoil and degraded handling characteristics.
The SASR is the original edition of the SASR M.
SASR M - starts with a 300c PSOP 2x24M Scope but can equip a 200c Ollio 4x Optical Sight
Capacity: 10 'rounds in a Box Magazine. 90 rounds in reserve.
Reload Time: Slow
Attachments
Edit
Sights (Increase Weapon Accuracy)
Firepoint

Suppressor .............200c (Undetected by sensors when firing, but decreases accuracy.)

Underbarrel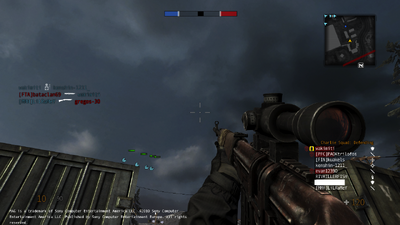 Ad blocker interference detected!
Wikia is a free-to-use site that makes money from advertising. We have a modified experience for viewers using ad blockers

Wikia is not accessible if you've made further modifications. Remove the custom ad blocker rule(s) and the page will load as expected.